All businesses, regardless of their size, need to make the most out of the business intelligence (BI) sitting in their dashboards to remain competitive.
Even if your company has the most robust BI infrastructure in place, it falls short if you cannot access, analyze, or understand the data easily. And, that is where BI dashboards come into play.
In this article, we explore the different types of BI dashboards and how each one can contribute to your business' success.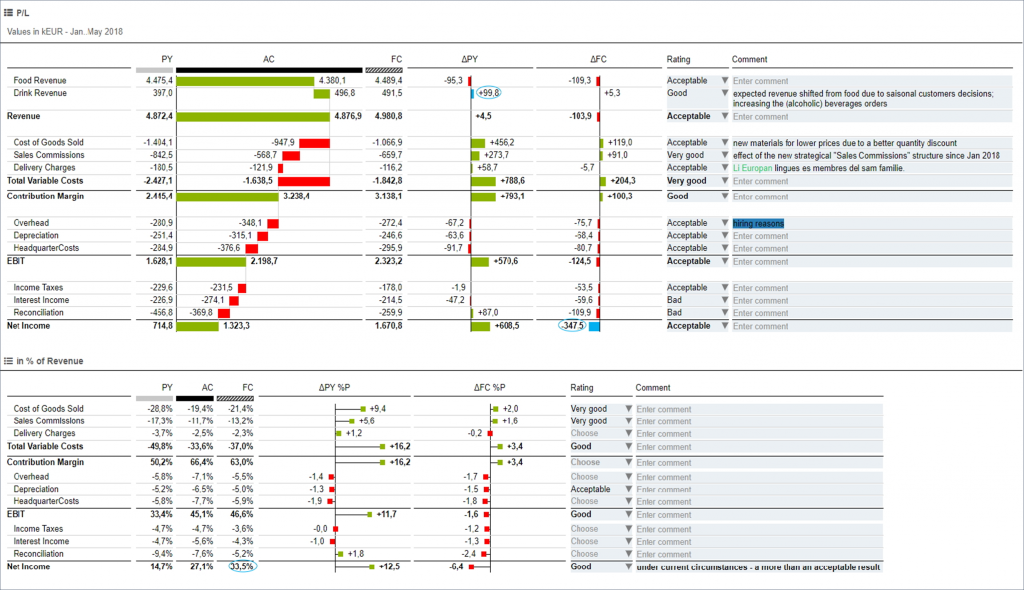 4 Types of BI Dashboards
Let's have a look at the main subtypes of data dashboards:
Strategic – focused on long-term strategies and high-level metrics
Operational – shows shorter time frames and operational processes
Analytical – contains vast amounts of data created by analysts
Tactical – used by mid-management to accelerate decision-making
Let's dig into more details about each of these dashboards!
Strategic Dashboards
A strategic dashboard is a reporting tool used to monitor the long-term company strategy. These dashboards are usually very complex as they provide an enterprise-wide insight into a business.
Strategic dashboards are most commonly used by senior-level management.
The main aim of strategic dashboards is to track performance metrics against enterprise-wide strategic goals. For that reason, strategic dashboards contain a summary of company performance over set time frames such as the past month, quarter, or even a year.
A strategic dashboard can effectively reduce the time needed to accomplish a certain business KPI while lowering operational costs when properly developed.
Operational Dashboards
Operational dashboards are used for monitoring operations that last for shorter periods. Since these dashboards are used to track operational processes, they are most commonly operated by junior levels of management.
Operational dashboards are the most common type of dashboards used in companies since they aim to monitor and analyze a company's activities in a given business area. They are based on real-time data, and they allow operational managers to visually and interactively point to an issue that has to be addressed quickly.
Operational dashboards are also used to create operational reports that provide a more detailed view of particular data sets.
Analytical Dashboards
Analytical dashboards contain a vast amount of data, and their sole purpose is to supply an organization with a comprehensive overview of data.
Analysts are in charge of gathering the data and supplying it to executives to provide support.
Analytical dashboards are very helpful when a company is dealing with complex and broad information and needs visualization to perform the analysis of the generated data.
Unlike operational dashboards that focus on real-time, analytical dashboards rely on historical data to identify trends, compare them with several variables and create predictions that will. In a way, these dashboards can be found at the intersection of the strategic and operational dashboards.
Tactical Dashboards
Tactical dashboards are used in the analysis and monitoring of processes conducted by mid-level management. Their main purpose is to guide users through the decision-making process.
This type of dashboard is great for monitoring the processes that support the organization's strategic initiatives.
The detail level of a tactical dashboard falls between the strategic and operational dashboards.
In addition, these dashboards make the most out of the interactive nature of dashboards, as they tend to include more data visualization than operational dashboards.
Unsure what type of dashboard would be most beneficial for your business? TRUECHART can help you out!
Our solution supports best-in-class visualization, data-driven communication, and platform independence. With the help of standardized IBCS® templates, TRUECHART makes complex reporting much easier, simpler, and faster.
---
Stay up-to-date with TRUECHART. Follow us on LinkedIn.