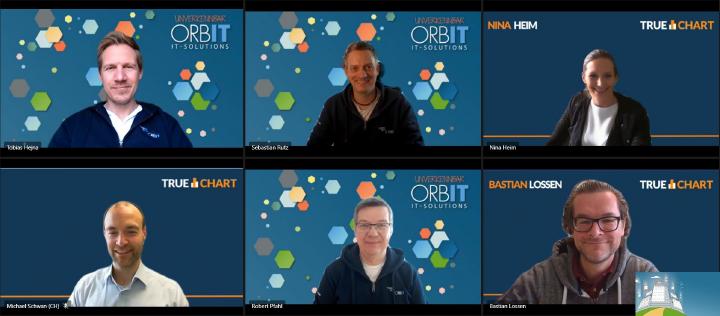 Bonn-based IT service provider ORBIT expands its offering with an innovative business intelligence solution: TRUECHART allows business reports to be used as a collaboration platform
(PresseBox) (Bonn, 04.03.21) ORBIT's business intelligence team supports medium-sized companies in reporting and analyzing their business data. The partnership with TRUECHART opens up new perspectives for reporting: TRUECHART integrates a comment and chat function directly into the digital business reports.
With the comment function, users mark unclear data, note questions, deposit specialist information, and link their notations to the values with data point accuracy. In KPI-CHAT, all responsible persons discuss the data in real time and attach the results of their discussion directly to the data. In the process, KPI-CHAT works as quickly and easily as a messenger app.
Robert Pfahl, Team Leader Business Intelligence at ORBIT: "With TRUECHART, business reports are not only more informative, but above all communicative. Customers can now comment on and discuss the data within their reporting platform. In addition, TRUECHART supports standardized reports according to IBCS®. This saves time and enables a much faster understanding of the company's key figures."
By merging the digital reports with the comment and chat function, the reports are transformed into a virtual, interactive workroom. Herein, all of those responsible view the data together in order to explain, evaluate, and interpret it. This happens in real time and, of course, remotely. In this way, the "whole" picture is revealed and the facts "behind the figures" become visible. And all this without leaving the BI system and using another documentation or communication programme.
Sebastian Rutz, Managing Director of ORBIT: "At ORBIT, we offer solutions for the digital workplace to enable teamwork at any time and from any place. Especially with remote work on the rise, tools like TRUECHART's are essential to optimize collaboration in businesses!"
Michael Schwan, CEO at TRUECHART, is also looking forward to successful cooperation with ORBIT: "Due to its long experience in the digitalization of German SMEs, ORBIT has strong market access and focuses on innovative reporting. The partnership between ORBIT and TRUECHART is therefore a logical consequence. We look forward to satisfied customers who will have their key figures under control better and faster than ever before!"
TRUECHART
TRUECHART software enables collaborative business intelligence by implementing a commentary and communication function directly into digital business reports. In addition, TRUECHART supports the design of reports according to the IBCS® standard. The cross-platform architecture allows TRUECHART to be integrated into almost any BI system. TRUECHART is a brand of the HICO-Group. www.truechart.com
ORBIT Gesellschaft für Applikations- und Informationssysteme mbH (Bonn, Germany)
ORBIT Gesellschaft für Applikations- und Informationssysteme mbH (Bonn) has been an IT service provider for individual system and software solutions since 1985. We advise large and medium-sized companies on all IT issues. We design IT concepts, implement systems, develop, and customize software and deliver many other services – accompanied by our project management. ORBIT also supports the expansion and renewal of telecommunications infrastructures. In doing so, we test and validate our customers' products and services. The close partnership with selected manufacturers guarantees the quality of our innovative services and solutions. As an operationally independent company, ORBIT is part of the Deutsche Telekom Group. www.orbit.de
Learn more about the partnership here.
---
Stay up-to-date with TRUECHART. Follow us on Linkedin.